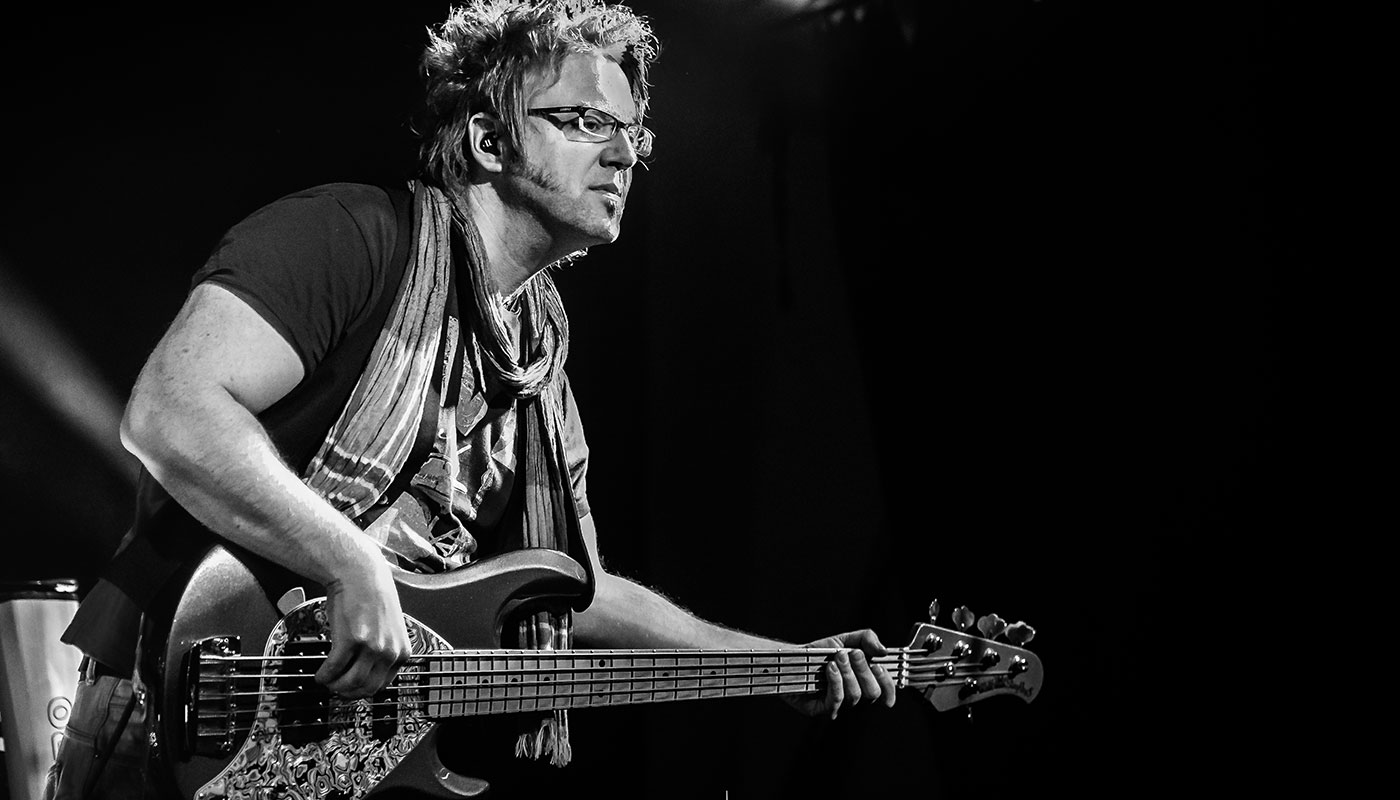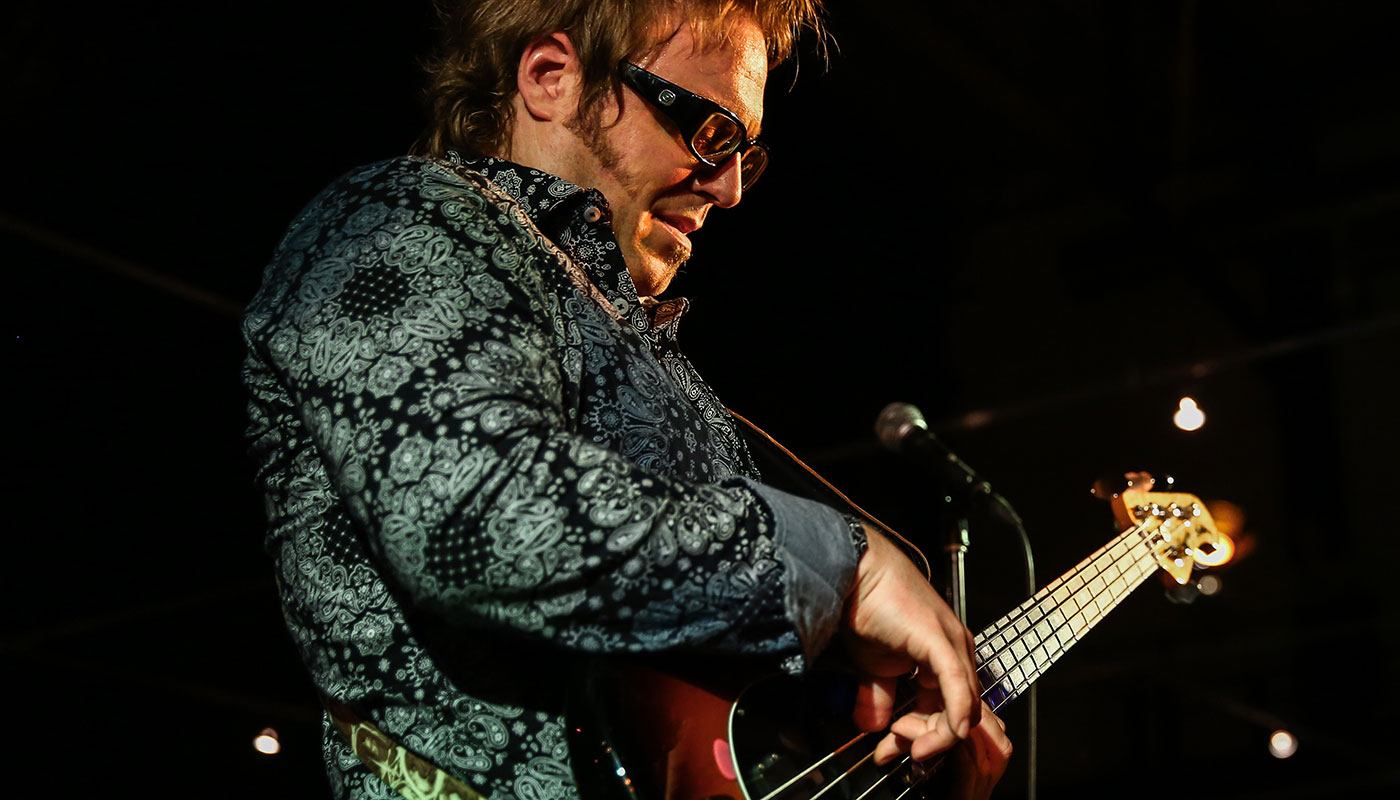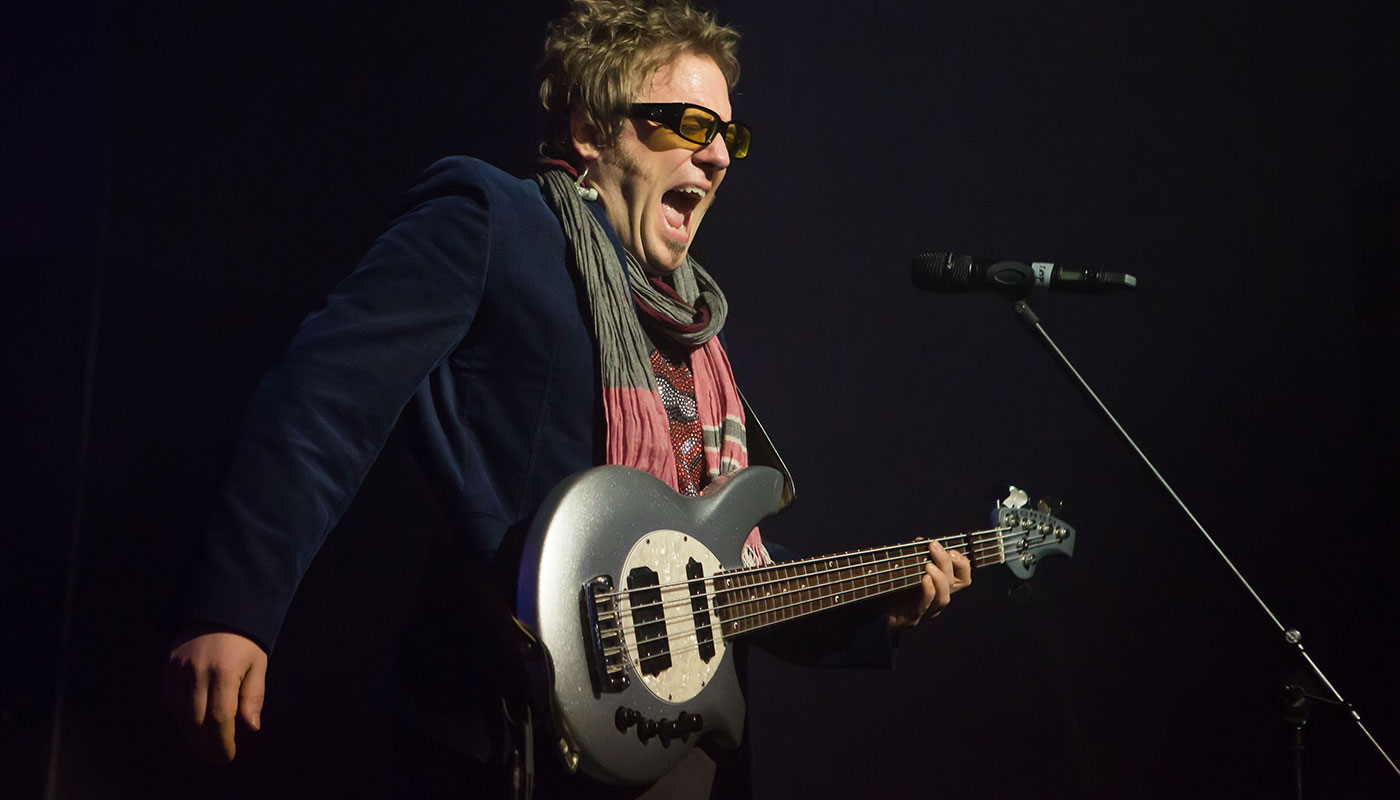 Welcome to larslehmann.com
homepage of the German freelance bass player Lars Lehmann!
After more than 25 years in the business Lars Lehmann has become an integral part of the bass world. Ever since the mid-1990's countless tours have led the highly versatile electric bass and double bass player around the globe multiple times. At the same time his distinctive playing style has become an important groove backbone of numerous recordings.
Nowadays you will find Lars either gigging at international rock, pop, funk & soul venues or jazz festivals. Then again you will spot him playing the double bass in the orchestra pit for various musical shows.
Lars has also gained an excellent reputation as a bass educator, e.g. at the "Popakademie Baden-Wuerttemberg", Mannheim, Germany, the "Hochschule fuer Musik, Theater und Medien" in Hannover, Germany, the "Academy of Contemporary Music (ACM)" in London, England, as well as the "Warwick Bass Camp", a highly esteemed international bass workshop, where he has taught classes alongside bass legends such as Victor Wooten, Steve Bailey, Alphonso Johnson, Bobby Vega, Stu Hamm, Adam Nitti and Gary Willis. Last but not least Lars has written one of the best teaching method books on slapping bass: "Slap-Attack".
In addition to his work as a musician Lars was the editor in chief of the German bass magazine "Bass Professor from 1996 to 2015. He has also been the head of bass editorial office of www.bonedo.de, the biggest German online magazine, since 2015.
News
October 2018: A new semester starts this month both at the "Hochschule fuer Musik, Theater und Medien" in Hannover, and at the "Popakademie Baden-Württemberg" in Mannheim. A warm welcome to all students – new and old!
This month we will also shoot another video with Melanie Mau & Martin Schnella in yet another "lost place" in the Harz mountains in Germany. Get ready for a great location!
We are currently rehearsing for "The Addams Family" at the "Theater fuer Niedersachsen" which will see it's premiere on october 26.
_______________________________________
September 2018: The Bahama Soul Club is finally back on stage! We will be performing in such beautiful places like Georgia (Europe, not in the US) – really looking forward!
Workshop: I will once again be doing a bass clinic at the annual  "Marleaux Tiefgang Festival" (September 28-30) in Bad Lauthental in the beautiful Harz Mountains.
On September 8 a new musical production by German Theater fuer Niedersachsen will see it's premiere: "The Brodges Of Madison County". I will be playing electric and double bass.
I will also be performing with Melanie Mau & Martin Schnella plus I will be shooting new review clips with Gregor Fris for basstheworld. And yeeeees, the new Music Man Stingray Special will be checked out as well! 😀
The new video to the song "My Dear Children" by Melanie Mau & Martin Schnella is finally online. Make sure to check it out since it has turned out great:
Melanie Mau & Martin Schnella – MY DEAR CHILDREN (Official Video)
_______________________________________
August 2018: After a beautiful holiday I'm heading back to work! I have gigs coming up with Melanie Mau & Martin Schnella and will also be performing with the Bahama Soul Club feat. Olvido Ruiz for the first time after more than two years time!
_______________________________________
July 2018: Teaching at the "Jazz & Rock Workshop Salzgitter 2018" was great fun! Thanks to all the students, my lovely colleagues as well as Ralli Lewitziki and his team!
I'm really looking forward to the gig with Ignore The Sign at the "Rock das Ding"-Festival in Balge feat. Axxis, Nitrogods or The Blue Poets. Save the date: July 21!
Before that I will be heading to the Mannheim Popakademie for some more days of bass teaching and semester exams.
Also we will be shooting a new music video for yet another song of the album "The Oblivion Tales" by Martin Schnella & Melanie Mau right before the well-earned summer break at the end of this month.
Tourdates
November 24 – Bahama Soul Club @ Kulturbahnhof, Cloppenburg
November 23 – Bahama Soul Club @ Wegwarte, Lucklum
November 16 – Bahama Soul Club @ Jazz Point, Wangen
November 9 – Bahama Soul Club @ Tanzcafé  San Fransisco, Bayreuth
November 8 – "Die Addams Family" (Musical), Rheine
November 3 – "Die Addams Family" (Musical), Hildesheim
November 1 – "Die Brücken am Fluss" (Musical), Hildesheim
October 26 – "Die Addams Family" (Musical), Nienburg
October 12 – "Die Brücken am Fluss" (Musical), Burgdorf
September 28-30 – Bass Workshop @ Marleaux "Tiefgang" Bass Camp, Lauthental
September 21-23 – Bahama Soul Club @ "Jazz & Wine Kakheti", Georgia
September 19 – "Die Brücken am Fluss" (musical), Hameln
September 17 – "Die Brücken am Fluss" (musical), Hildesheim
September 8 – "Die Brücken am Fluss" (musical), Hildesheim
August 30 – Bahama Soul Club @ "Woche der kleinen Künste", Gütersloh
August 26 – Martin Schnella & Melanie Mau @ "Salz & Lichterfest", Bad Harzburg
July 21 – Ignore The Sign @ "Rock das Ding" Festival, Balge