Lars Lehmann's
Slap-Attack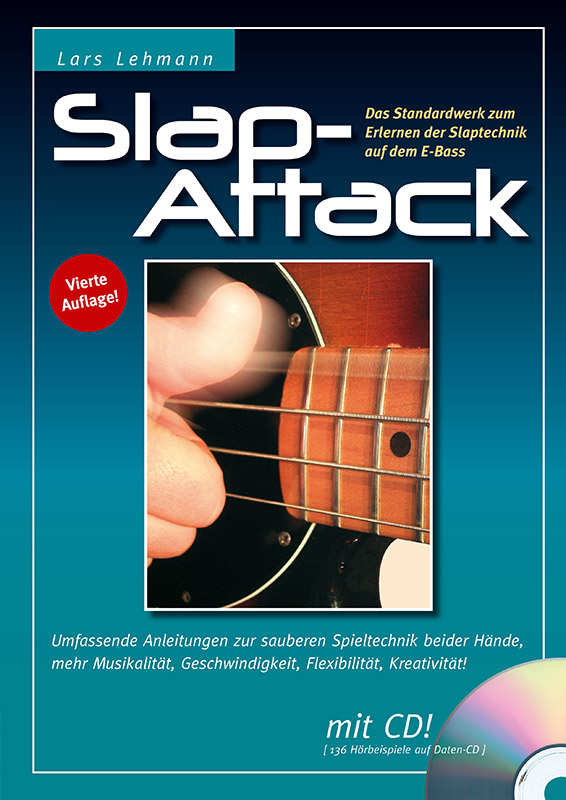 "SLAP-ATTACK" My book on thumb technique is NOW available!
"SLAP-ATTACK" is the ultimate teaching method on slap bass. The book contains an abundance of information on thumb positioning, slapping, plucking, right & left hand dead notes, double pops, double thumbing, combining slapping and tapping as well as lots of useful tips for the "slapping bassplayer's every-day-life"!
The book includes a wide variety of examples (available both in written music and tablature) and also contains a CD with 136 track files (wav & mp3).
"SLAP-ATTACK" is ONLY available in GERMAN so far, but as music is a universal language bass players will definitely benefit from the examples, the pictures and the CD even if they are not from a German speaking country.
I am also thinking about writing an English version. I will keep you updated!
Order SLAP-ATTACK!
To order my teaching method "SLAP ATTACK" (sorry, so far in german only…  but the english version is on its way!) just drop me a l ine. You will receive a reply including my bank information from me asap – usually I'll be able to answer you within 48 hours. Advance payment is necessary (39,95 Euro within Germany incl. VAT / within Europe and for international shipping 42,00 Euro incl. VAT).